- Expert Design Service for CMOS mixed-signal IP's

-
Dipl. Ing. Matthias Eberlein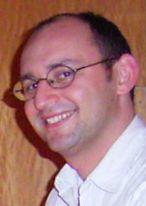 The real world is ANALOG.
I know analog, and it is my passion to design CMOS Integrated Circuits. With over 15 years appropriate experience in various industries, in Germany and Asia, I shall be glad to help you with your urgent ASIC project on contract base (consultant).
I offer
expert knowhow in Power Management
and related areas. I am good in creating innovative solutions, in transistor-level optimization for best performance, and with excellent analytical capabilities. While I generally appraise sincere communication, you can be sure that the technical expertise offered is reliable.
A professional profile, including CV and references, is available on request. Kindly contact:
Matthias Eberlein, D-71522 Backnang
phone: +49 176 64096100
mail:
admin [at] analog-asic.de
---

Services offered:
Design

of CMOS/BiCMOS analog and mixed-signal circuits/modules

Consulting

for concept and technology selection, design tools, circuit review

Feasibility

studies

Silicon

evaluation & characterization

Layout

support/service
Areas of special Expertise:
Low-Voltage/Low-Current CMOS circuit techniques
Power Management: LDOs (high performance/low power), switching converters
References (Bandgaps, current references, oscillators)
Radiation tolerant design
Innovation and patent generation
Additional Experience:
Analog 'standard modules' like POR, Charge-Pump, Startup control..
Sensors
Automotive design
Amplifiers (class-D, OPAMPs)
Converters: DAC, ADC
Filters (gmC, RC, Switched-Cap)
Publications/Patents:
Totally 17 inventions and patents filed in various areas: Class-D amplifier, bandgap reference, LDO's, Boost converter, Ultra-low-current and -voltage (<1.0V), POR, Oscillators ...
"

An integrated channel noise based true random number generator", ASICON '07 IEEE international conference, Guilin (China)
"A technology compensated current reference in standard CMOS", ASICON '07 IEEE international conference, Guilin (China)
Copyright ©2009-2012 by Analog-Asic